We first encountered temari while visiting the Philadelphia Weavers Guild's open house in 2011. There was a bowl filled with temari that the members had made during a workshop. We looked at the remarkable stitched balls and said, "We have GOT to do this!"
Using Barbara Suess' book, Japanese Temari: A Colorful Spin on an Ancient Craft, we worked our way through every pattern. To continue to refine our skills, we traveled to the John C. Campbell Folk School in North Carolina, where we spent a week stitching and learning with Barbara Suess herself. She introduced us to more complicated techniques, as well as many Japanese publications that are hard to find in the U.S. We are currently interpreting the inspiring designs in these beautiful publications from the masters of temari.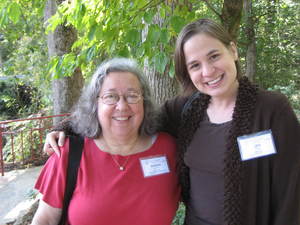 Our work has been featured at a gallery exhibit at the Liriodendron Mansion in Harford County, Maryland.
We have presented temari workshops and demonstrations to fiber guilds and interested small groups and have taught at the 2015 Mid Atlantic Fiber Conference as well as at Harford County Community College.
Karen retired from teaching in 2018, but the kinship of the temari twins remains. She is continuing her stitching adventure, exploring various traditional embroidery techniques.
Jen is busy expanding her teaching venues, including regular classes at the Red Stone Glen Fiber Arts Center in New Haven, Pennsylvania. She is hard at work writing up intermediate and advanced patterns to publish, and working on her Japanese Temari Association Level 3 (teacher) certification.
While we refer to ourselves as twins, we are different in many ways, but our bond of friendship and passion for our craft bridges all differences and makes us true twins in spirit.
— Jen & Karen, Temari Twins