2023 is the year of the rabbit, so if you've been wanting to study with me, know that it's the perfect year to do so! I love teaching as much as I love crafting, and I would be thrilled to share my passions with you. And if none of the options below work for you, please reach out to me at jenweberfiberarts@gmail.com to arrange for a private individual or group class.
Temari Classes
Japanese Temari is my true passion, and I'm a certified teacher (Shihan) through the Japanese Temari Association. Check out the places below to learn how to make these amazing embroidered balls with me, or to expand your stitching skills.
John C. Campbell Folk School
I'm thrilled to be offering a week long class in temari at the wonderful folk school in Brasstown, N.C. If you haven't heard of them, check out their website. Their week long classes are a wonderful retreat, as you can stay on campus and enjoy their great food while really digging deep into a new craft or skill. It's like summer camp for adults! The setting is a simply magical place, and as a bonus, you will get to meet new crafting friends and see all kinds of inspiring art. When I travel and teach, this is my favorite destination.
This class is perfect for all levels of stitchers. If you have experience making temari, we'll email before class so that I can tailor your experience in class to work on your personal goals. And if you're a beginner, having a week means you'll get to learn the basics and work on some patterns that really speak to you!
You can register for my June class here:
Exploring Japanese Temari at the Folk School
June 4th – 9th, 2023.
---
Mid-Atlantic Fiber Arts Conference 2023
The bi-annual MAFA Conference is back this year, and I'm thrilled to be teaching temari there! Coming to the conference in Millersville, PA is more than coming to a class. MAFA has lots of extras: speakers, a huge vendor's hall and fun evening activities during the long weekend of classes. You'll get to meet with over 400 other fiber addicted friends and show off your new temari skills! This is a two and a half day class where you'll learn all the basic skills to making Japanese Temari. You'll get started stitching right away on a base I've prepared for you, and you'll work on four different temari during the class. Keep in mind this is a class to build your skills, not a "project" oriented class. So while you might not finish your work in class, you will go home with the materials, instructions, and ability to finish them and keep on creating even more!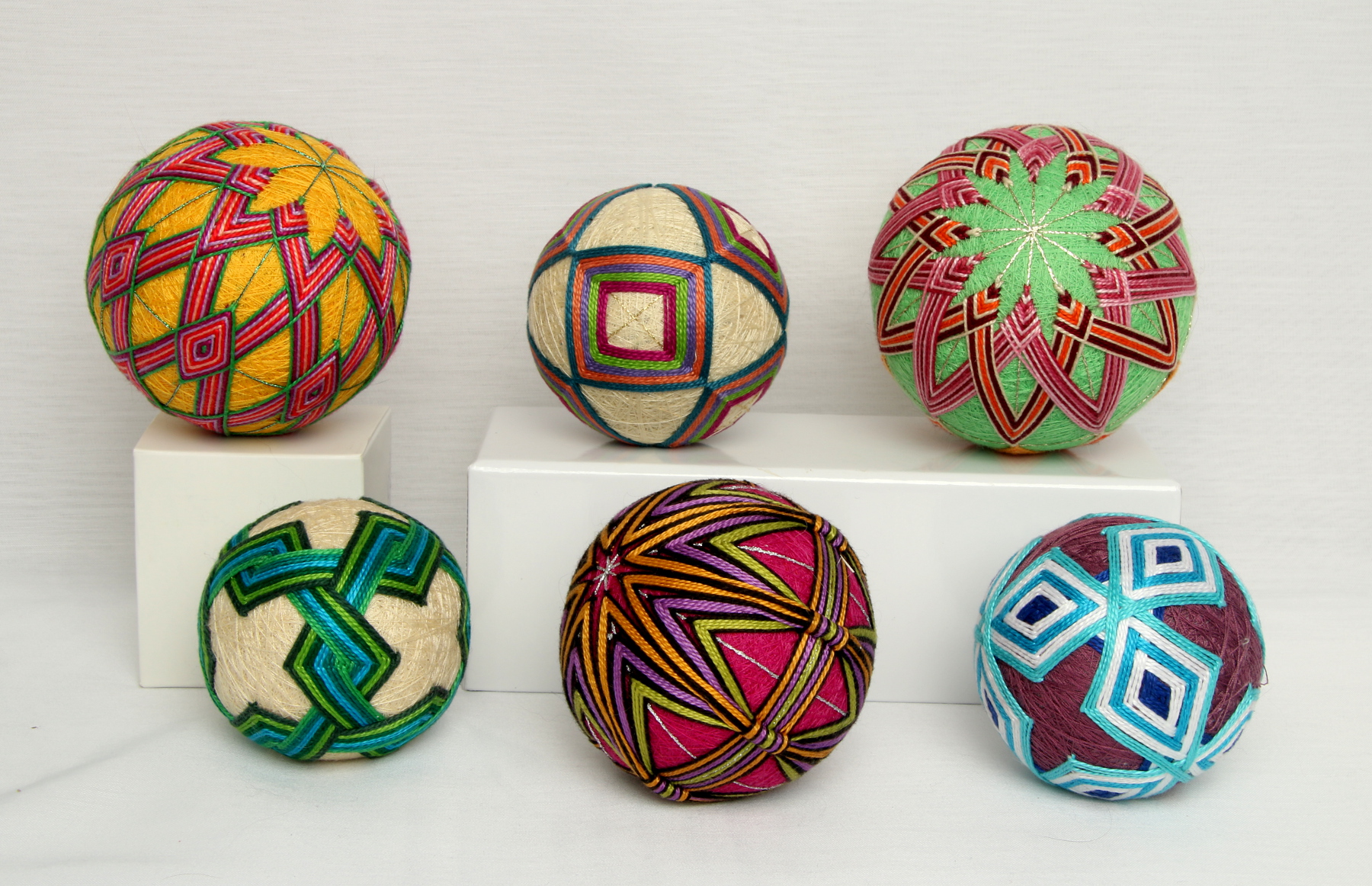 You can find out more information about the MAFA 2023 conference here:
---
Open Studio At Jen's House
One thing I love more than travelling and teaching is getting to to teach out of my home studio north of Baltimore, Maryland. Open studio classes are all about expanding your temari skills — it can be a refresher on the basics, specific skill refinement, an introduction to more advanced subjects and patterns or even all three! I'll reach out to you ahead of class to find out what your goals are so that I can tailor your class time to meet them. You can bring your own supplies or travel light and purchase from my studio stock. Whatever your temari fancy is, we can tackle it together. And these three day long classes are kept exclusively small, so that students receive plenty of personal attention.
I'm offering three Open Studio classes out of my home this year:
The cost for the weekend class is $300. To find out more information or to sign up, please email me at jenweberfiberarts@gmail.com.
---
Red Stone Glen Fiber Arts Center
I'm very happy to be back teaching temari class at the amazing Red Stone Glen Fiber Arts Center. Nestled in gorgeous Newberry Township, PA (just north of York), the glen is a wonderful place to study fiber arts. Founder Sara Bixler and her renowned father Tom Knisley are the resident fiber artists, and the variety of classes held here year round is incredible. Red Stone Glen also features fantastic and affordable student lodging, and a well stocked fiber store.
This year I'll be teaching a Temari Open Studio session in April of 2023. This class is all about getting personalized help for whatever your current temari needs are. Whether you come to refresh your basic knowledge or to learn new advanced skills, I'll work with each student on their individual goals. Bring along your previous work, supplies and questions, and get ready for a relaxing and yet invigorating weekend of temari fun. And if possible, let me know ahead of time what you are interested in working on, so I can come prepared with a lot to share with you.
If you're not sure what to stitch or study next, check out Red Stone Glen's blog about temari. At the end of the post is a list of suggested temari skills that might give you some great ideas on what to work on next. Check out the article here:
To sign up for this three day class, head over to Red Stone Glen's website:
Other Fiber Arts Classes
While I am obsessed with Japanese temari, it isn't the only fiber craft that I enjoy. I've been spinning and weaving for over 20 years, and I enjoy dyeing my own fabrics and yarns. Here are some of my other class offering that you might be interested in.
Learn to Design Weaving with Fiberworks Software
What do I love more than weaving? Designing weaving cloth and projects on my computer! Over the last decade I've talked with many weavers who find design software frustrating to use, or hard to learn. So I've been on a mission to help as many weavers learn to use my favorite software package (Fiberworks) as I can. Over four sessions I go over EVERYTHING, from the fundamentals of editing and file management to the most complicated features like block substitution, network drafting, and designing with the sketchpad. I teach this class online, and with a week in between sessions, students have plenty of time to practice using their new skills, and I'm happy to help troubleshoot any issues that might come along.
You can join me in learning Fiberworks in two classes this year:
February 2023 with John C. Campbell Folkschool's Online Classes
https://www.lessonface.com/apply/learn-design-weaving-fiberworks
May 2023 with the Mid-Atlantic Fiber Association
https://www.lessonface.com/apply/learn-use-weaving-design-software-fiberworks
Please note that I demonstrate on a PC ONLY. (Sorry I don't own a MacBook). There are some substantial differences between the Fiberworks PC and Mac versions, and while I do try to cover those differences in the classes, I am unable to demonstrate the Mac version.
---
Mid-Atlantic Fiber Association's Virtual Conference 2023
In 2021, the pandemic threw us all for a loop. The MAFA Conference that year switched to a virtual format with short classes, and it was a roaring success. This year, they are not only hosting their regular in-person conference, but they are doing a mini-conference online just two weeks later!
Stay tuned for information on the classes I'll be teaching there!
And if you're looking for a fun night of trivia and silliness, be sure to join me as I host the Trivia Night event on Saturday night! Any Conference participants can drop in and watch the fun as our contestant teams pit their wits against my crazy questions!
---
Private Lessons – Virtual
If you are interested in studying with me one-on-one in a virtual setting, I teach using the hosting platform Lessonface. This is the same platform that JCC Folkschool uses for their online classes, as well as what many online fiber conferences use. This is a great way to connect and work through topics that do not need in-person contact. If you'd like to study temari with me this way, I will need you to have a good camera so that I can see your work clearly. (Document cameras work best, web cameras have very poor depth of field).
Please note that I do not teach beginning temari online in this fashion…this is reserved for students that have some understanding of the fundamentals. You can email me directly at jenweberfiberarts@gmail.com or find my profile and message me on Lessonface here:
https://www.lessonface.com/instructor/jen-weber
Private Lessons – In Person
I love teaching, and I don't mind travelling! If you have a group of people interested in learning temari, contact me at jenweberfiberarts@gmail.com. I also can teach privately out of my home studio near Baltimore, MD.
(My temari introduction class is 3 days, my preferred maximum number of participants is 8, and my hard limit maximum number of students is 10.)
Please feel free to contact me at jenweberfiberarts@gmail.com for more information about private classes.